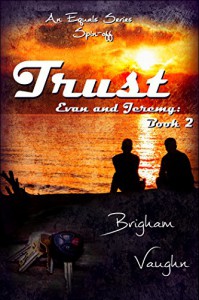 Scars run deep but run loves even deeper.
---
After a lifetime of being told he's worthless, Evan Harris is forced out of the closet and the only home he's ever known. Jobless and homeless, he makes a desperate call to a couple he barely knows. They give him a place to stay at their place in Atlanta while he gets back on his feet. But he's too shy to explore the big city and go after what he wants: a relationship.

Physically and emotionally scarred from a devastating car accident, Jeremy Lewis struggles to reconcile the brash, outgoing man he used to be with the social recluse he's become. He's resigned himself to being alone, but an encounter with an ex-boyfriend shakes up his dull existence and brings Evan into his life.

Loneliness draws Evan and Jeremy to each other, but a strong mutual attraction isn't enough. At thirty-six, Jeremy is convinced a relationship would be holding twenty-one-year-old Evan back.

Evan must be strong enough to fight for what he wants and Jeremy must let someone close enough to see his scars. Otherwise, they'll miss out on the love of a lifetime.
Review
A hopeful tale where two lonely kind men find love. Jeremy and Evan need to mind the age gap and each others self esteem issues but it is a lovely romance with a chosen family.